Innovative Project Feature
The TPCB Innovative Project Feature highlights innovative transportation planning projects, plans, and practices. The program provides a unique opportunity to recognize and celebrate the outstanding transportation planning practices performed by planners and decisionmakers in communities across the country. Submitted projects can focus on an array of planning topic areas, including public involvement, multi-modalism, equity, and collaboration, and selected submissions will be highlighted on the TPCB homepage, as well as in detail below.
We applaud the highlighted agencies for their projects as well as all of the outstanding projects nominated for this feature. We recognize all applicants for their efforts in applying to the program and appreciate the work that is being done to advance transportation planning across the county.
Submissions must include:
Project title
Contact information and agency
A 300-word project description
A photograph of the project
Eligible projects are federally funded and have been completed within the last three years.
To apply, please email submissions to TPCB@dot.gov. All submissions will be vetted through the appropriate FHWA Division Office and FTA Regional Office.
Current Project Feature
Merrimack Valley Priority Growth Strategy
Merrimack Valley Planning Commission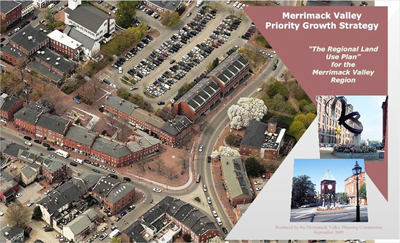 The "Merrimack Valley Priority Growth Strategy" (PGS), a roadmap for the future of the 270 square mile area, is the first Master Plan to be developed for the region in over 30 years.
The Plan discusses the common challenges of the region such as traffic congestion, bridge and roadway conditions, and the need for affordable housing for our children and young families. Another major challenge is the loss of control over municipal financing and the need to encourage growth to finance municipal services, but growth that does not harm the quality of life.
Like a traditional regional Master Plan, the PGS identifies areas most suitable for development, and conversely, areas best left as open space and conservation. Unlike most regional Master Plans, it is built on the input of local planners and community development officials who have identified these areas through a "bottom up" approach that reflects each community's development and conservation priorities. Not only were city and town planners and economic development directors interviewed through an active public outreach process, but all local plans and available studies were reviewed to provide further guidance. These areas were then reviewed and evaluated using 15 measures related to Smart Growth development.
Over fifty Concentrated Development Centers (CDC), areas of existing concentrated development or areas suitable for future high density development are identified. CDC's have been classified as Smart Growth Centers, Centers of Commerce, Business Centers, or Village Centers based on several criteria including density, allowed uses, and highway and public transportation access.
The Strategy also suggests areas that should not be developed in order to preserve the character of the region and to protect environmental resources. It also evaluates the suitability of the regional transportation network to serve the different land-use patterns and recommends smart mobility improvements that will best serve present and future generations.
The Plan embraces the principles of smart growth and sustainability. It articulates a regional vision of promoting growth in the right place, those areas best able to accommodate it and at the same time protect our region's most critical natural resources.
For More Information Contact:
Anthony Komornick
Merrimack Valley Planning Commission
(978) 374-0519
AKomornick@mvpc.org
For more information about the TPCB program, contact
Michelle Noch
at FHWA (202-366-9206) or
John Sprowls
at FTA (202-366-5362).