Innovative Project Feature
Current Project Feature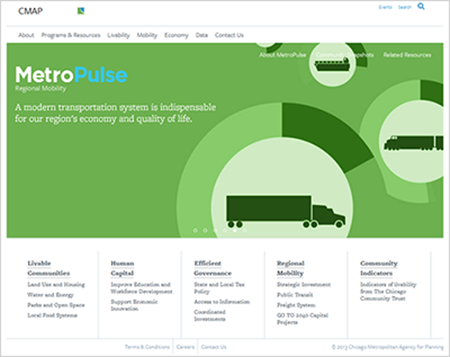 CMAP MetroPulse - Chicago Metropolitan Agency for Planning
The Chicago Metropolitan Agency for Planning (CMAP) and The Chicago Community Trust partnered in 2007 on an effort to utilize emerging data to track implementation of the region's GOTO 2040 comprehensive regional plan. GOTO 2040 establishes coordinated strategies for the 284 communities that make up the region to address an anticipated population growth of more than 2 million residents by 2040.
MetroPulse is a tool designed for policy makers, community leaders, media and the general public to gather objective data that can inform their work. The tool filters out noise that too much data can provide and focus on select indicators to monitor GOTO 2040 implementation. These indicators include livability, human capital, efficient governance and regional mobility. MetroPulse includes narrative analyses and visuals for indicators that are of significance to a broad community of users and are aligned with the priorities of GO TO 2040 and The Chicago Community Trust. MetroPulse also provides tables, charts, maps, and "snapshot" data reports on the City of Chicago's 77 community areas and on municipalities across the 7-county Chicago Metropolitan Area. To close the gap on user data needs, the site will provide categorized links to data from trusted sources selected by CMAP and The Chicago Community Trust. MetroPulse can be accessed at: http://www.cmap.illinois.gov/metropulse
Innovative Project Feature Submissions

The TPCB Innovative Project Feature highlights innovative transportation planning projects, plans, and practices. The program provides a unique opportunity to recognize and celebrate the outstanding transportation planning practices performed by planners and decisionmakers in communities across the country. Submitted projects can focus on an array of planning topic areas, including public involvement, multi-modalism, equity, and collaboration, and selected submissions will be highlighted on the TPCB homepage, as well as in detail below.
We applaud the highlighted agencies for their projects as well as all of the outstanding projects nominated for this feature. We recognize all applicants for their efforts in applying to the program and appreciate the work that is being done to advance transportation planning across the county.
Submissions must include:
Project title
Contact information and agency
A 300-word project description
A photograph of the project
Eligible projects are federally funded and have been completed within the last three years.
To apply, please email submissions to TPCB@dot.gov. All submissions will be vetted through the appropriate FHWA Division Office and FTA Regional Office.
For more information about the TPCB program, contact
Michelle Noch
at FHWA (202-366-9206) or
John Sprowls
at FTA (202-366-5362).