Innovative Project Feature
Nature-Based Solutions for Coastal Highway Resilience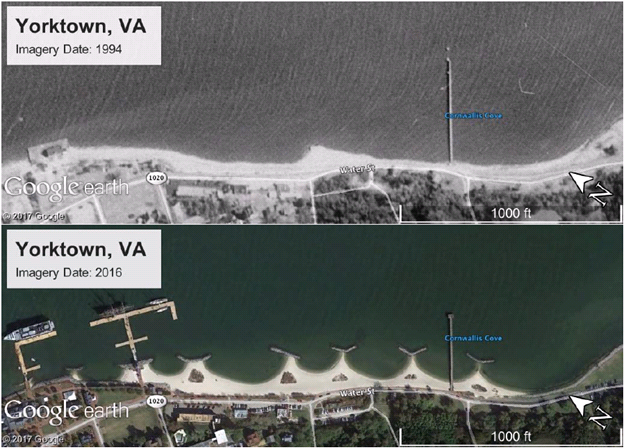 The Federal Highway Administration's Office of Planning, Environment, and Realty (FHWA-HEP) is leading a research effort to understand how cities across the nation are using nature-based solutions to protect coastal highways from extreme weather events and sea level rise. Among the planned activities undertaken in this effort are a set of regional peer exchanges on the topic and a planned implementation guide for State and local planning officials to better understand the approach.
An estimated 60,000 U.S. highway miles, including approximately 1,000 bridges, are vulnerable to coastal storm hazards at present sea levels. Nature-based solutions include the constructing saltwater marches, mangroves, maritime forests, reefs, beaches, dunes, or some combination thereof, which help to minimize flooding or divert storm surge to designated areas and away from critical infrastructure. These are typically used in lieu of, or alongside with, traditional coastal highway protection mechanisms such as seawalls, bulkheads, or revetments.
Currently, it is not well understood how many shoreline highway miles could benefit from nature-based solutions. FHWA seeks to map the current state of the practice and synthesize the leading literature on the topic to help States and regions; to launch this effort and frame future conversations, FHWA published a white paper titled Nature-Based Solutions for Coastal Highway Resilience in February 2018. The paper reviews current literature on the topic and provides several examples of its implementation across the U.S. It also identifies the gaps in knowledge related to nature-based solution's applicability transportation infrastructure.
The nature-based solutions research is an ongoing effort. Watch the FHWA-HEP webpage for future publications and updates.
Innovative Project Feature Submissions

The TPCB Innovative Project Feature highlights innovative transportation planning projects, plans, and practices. The program provides a unique opportunity to recognize and celebrate the outstanding transportation planning practices performed by planners and decisionmakers in communities across the country. Submitted projects can focus on an array of planning topic areas, including public involvement, multi-modalism, equity, and collaboration, and selected submissions will be highlighted on the TPCB homepage, as well as in detail below.
We applaud the highlighted agencies for their projects as well as all of the outstanding projects nominated for this feature. We recognize all applicants for their efforts in applying to the program and appreciate the work that is being done to advance transportation planning across the county.
Submissions must include:
Project title
Contact information and agency
A 300-word project description
A photograph of the project
Eligible projects are federally funded and have been completed within the last three years.
To apply, please email submissions to TPCB@dot.gov. All submissions will be vetted through the appropriate FHWA Division Office and FTA Regional Office.
For more information about the TPCB program, please email
TPCB@dot.gov
.