Innovative Project Feature
I-10 Corridor Coalition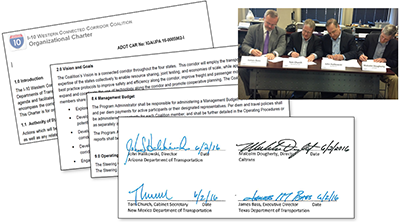 The Interstate-10 (I-10) Corridor Coalition is a voluntary coalition of four State Departments of Transportation (DOTs)—Arizona DOT (ADOT), California DOT (Caltrans), New Mexico DOT (NMDOT), and Texas DOT (TxDOT)—committed to multijurisdictional coordination along a busy corridor in the Southwestern United States.
ADOT, in coordination with the other three State DOTs, participated in a Pooled Fund Study in June 2016 to develop an inventory of the I-10 Corridor's assets and estimate the potential for utilizing new technologies to improve freight movement along the corridor. After the study was completed, the organizations developed a draft Concept of Operations. On June 2, 2016, an I-10 Corridor Coalition Peer Exchange was held in Phoenix, AZ to foster better understand the necessary steps related to forming and operating the corridor. This peer exchange resulted in the development of the Coalition. A summary report of the peer exchange, which was sponsored by the FHWA-FTA Transportation Planning Capacity Building (TPCB) Planning Program, is available online.
The I-10 Corridor Coalition aims to harmonize operations and coordinate improvements to reduce friction and enhance reliability of freight and passenger movement along the corridor. The collaboration allows the four State DOTs not only to share expertise and resources, but also to reap the benefits of economies of scale and develop best practices as they improve the reliability of the I-10 Corridor. The Coalition also coordinates with six Tribal governments and encourages ongoing intergovernmental dialogue on issues of mutual concern.
The Coalition recently launched its website: https://i10connects.com/home. Visit the website to learn more about the Coalition and its member organizations, read news about the corridor, and access other resources and information.
Innovative Project Feature Submissions

The TPCB Innovative Project Feature highlights innovative transportation planning projects, plans, and practices. The program provides a unique opportunity to recognize and celebrate the outstanding transportation planning practices performed by planners and decisionmakers in communities across the country. Submitted projects can focus on an array of planning topic areas, including public involvement, multi-modalism, equity, and collaboration, and selected submissions will be highlighted on the TPCB homepage, as well as in detail below.
We applaud the highlighted agencies for their projects as well as all of the outstanding projects nominated for this feature. We recognize all applicants for their efforts in applying to the program and appreciate the work that is being done to advance transportation planning across the county.
Submissions must include:
Project title
Contact information and agency
A 300-word project description
A photograph of the project
Eligible projects are federally funded and have been completed within the last three years.
To apply, please email submissions to TPCB@dot.gov. All submissions will be vetted through the appropriate FHWA Division Office and FTA Regional Office.
For more information about the TPCB program, please email
TPCB@dot.gov
.